Skilled, Private Nurses Offering In Home Healing Care
Private nursing makes it possible for elderly, injured, and disabled individuals to enjoy the comfort and familiar surroundings of home while receiving the quality in-home care they need. At Danny's Home Health Care, we consider our clients' health and well-being to be our highest priorities. And because we understand that coordinating care for a loved one can be stressful for family members, we go out of our way to provide exceptional customer service.
Our registered and certified nurses will conduct a complete medical evaluation and work with the patient's doctor and medical team to create a customized treatment plan. In addition to providing expert care, our goal is to keep unwanted hospital visits to an absolute minimum, a goal successfully represented by our low hospital readmission rates.
Get the Help You Need Today
Don't let health challenges slow you down. Improve your quality of life. Call us today for more information or to schedule an appointment. A medical concierge representative is available 24 hours a day, 7 days a week.
Do I Qualify?
Danny's accepts Medicare and other major insurance. Click here for insurance information for your particular area.
Our medical staff is available to take your call 24 hours a day, 7 days a week at 888-246-9687 or fill out the form below and we'll get back to you as soon as possible.
Danny's Home Health Care's nursing team can provide the following services:
Medication management and administration, including intravenous infusions

Performing head-to-toe physical assessments and taking vital signs

Assisting with activities of daily living including bathing, toileting, grooming
Collaborating with the patient, family, physician, and additional support staff to provide individualized care

Case Management including monitoring treatment progress and evaluating a patient's response to treatment
Diabetes management and education

Illness and condition assessment and education
What sets Danny's apart?
No Out of Pocket Fees

CHAP Accredited

CMS Certified

Speak To A Nurse 24 Hours A Day, 7 Days A Week

Free Consultation

Our Services Are Covered By Medicare

Extremely Low Hospital Readmission Rates

Our Medical Directors Are All Practicing Physicians Who Oversee Our Caseload

Customized Patient Care Plans

Careful Selection of Caregivers

Our Patients And Their Loved Ones Receive Personalized Service From One Of Our Highly Trained Medical Concierges
Why Choose Danny's?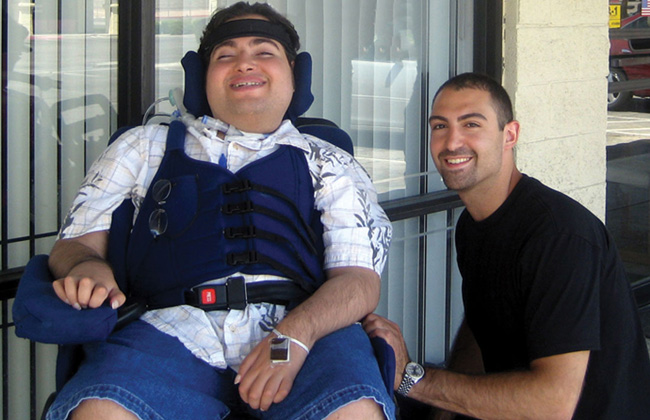 In 1993, 7-year-old Danny Kassab was struck by car traveling 60 mph. As a result of his injuries, he became paralyzed from the neck down and dependent on a ventilator to breathe. Our family rallied behind Danny. We all became caregivers. We learned first-hand what it means to dedicate every day to taking care of a loved one in need. We discovered the joys and the challenges. Danny's Home Health Care was founded in his name, by his family, to help others caring for those in need.
Danny's Home Health Care is an excellent agency! They cared for an elderly aunt of mine and they helped her immensely! The compassion and care they showed each time was very much appreciated. The physical therapy and nursing services they provided were unmatched. I highly recommend this agency to anyone who wants quality home care and staff that actually cares about their patients.
— Shannon Cholak
Google ★★★★★
During the last few years, I have nearly died twice for a lack of adequate healthcare at home... One of my doctors then suggested Danny's Home Health, and since I had respect for that doctor, I decided to try again and was pleasantly surprised to find an agency that would not give up on me even before meeting with me! Danny's became working proof to me that home healthcare can be done properly. They have been steady and helpful when other agencies had no clue. If I had a special problem, they did some thinking and found a solution instead of jetting out the door never to be seen again. Thank you to everyone at Danny's!
— George
Google ★★★★★
As a company that provides therapy services to home health agencies, Danny"s Home Health is an excellent home health agency. They are a well organized group that provides great service to their patients. Everyone at the agency is very knowledgeable and cares about what they do.
— Randi Peled
Google ★★★★★
The care and follow through was very good and one person, Rita, was tremendous help in setting up care transportation - she went beyond normal expectation. All that are involved with my mother's care have gone beyond the normal level of care. Thank you.
— Larry Carter
Google ★★★★★
Excellent home health agency, all the staff that they working their are very helpful and patience. They are very flexible, honest and organized. I highly recommend this company for your family as they treat you like part of their family.
— Ruaa Damman
Google ★★★★★
This home health agency is 5 Star! They have helped with the care of my grandmother, and we as a family could not be more pleased. I highly recommend their excellent services for anyone one in need like our family was.
— Mary Dreher
Google ★★★★★
This home health agency has impressed me in many ways. Not only is this agency honest, yet friendly, but they seem to amaze me with the opportunities that they have provided for their patients from their physical therapy program. They also have wonderful staff who are so kind and hardworking. I recommend that if you want to see your family get better, Danny's Home Health Care all the way!!
— Marwa Younis
Google ★★★★★
Danny's home health care is the most professional and most timely home health agencies I have ever dealt with. They have the best RNs and physical therapists that can really reach the highest outcomes. One of my family members used this agency through Sharp hospitals in San Diego, and am most confident that we will always choose Danny's Home Health for our future home health needs. 5 star rating all the way!!
— Rick Bachi
Google ★★★★★