We're A 5 Star Home Health Care Agency
``Danny's Home Health is amazing!``
— Grateful Patty
★★★★★ GOOGLE REVIEW
``They are a well organized group``
— Randi Peled
★★★★★ GOOGLE REVIEW
Our medical staff is available to take your call 24 hours a day, 7 days a week at 888-246-9687 or fill out the form below and we'll get back to you as soon as possible.
We're Your Trusted Home Health Care Company
Hiring a home care service provider is an important decision. These skilled medical professionals can be the bridge for a patient to daily wellness and a high quality of life. For a patient's loved ones, quality home health care assistance can provide much needed peace-of-mind, allowing them to live their lives comfortable knowing that skilled, compassionate medical professionals are caring for the people they love.
If you or a loved one has an immediate medical need or if it's simply time to plan for the future, Danny's Home Healthcare is ready to help. We're a family company who, through personal experience, have been caregivers. We understand the daily needs and challenges of taking care of a loved one. Our company is based in Michigan and we have 6 locations in California. We pride ourselves on treating our patients and their families like our family, offering the highest quality care with world class customer service.
If you feel it might be time to talk with a home health care provider about options, we're prepared to offer a customized patient care plan that will address all of your concerns. Our staff members are knowledgeable, compassionate and courteous. We're ready to give you some peace-of-mind.
California Office Hours
in Los Angeles, San Diego, Napa, Modesto, Palm Springs, Santa Barbara, Temecula & Victorville:
Monday – Friday- 8:30 am – 5:00 pm
Saturday – Sunday- by appointment

Michigan Office Hours
in Rochester Hills:
Monday – Friday- 8:30 am – 5:00 pm
Saturday – Sunday- by appointment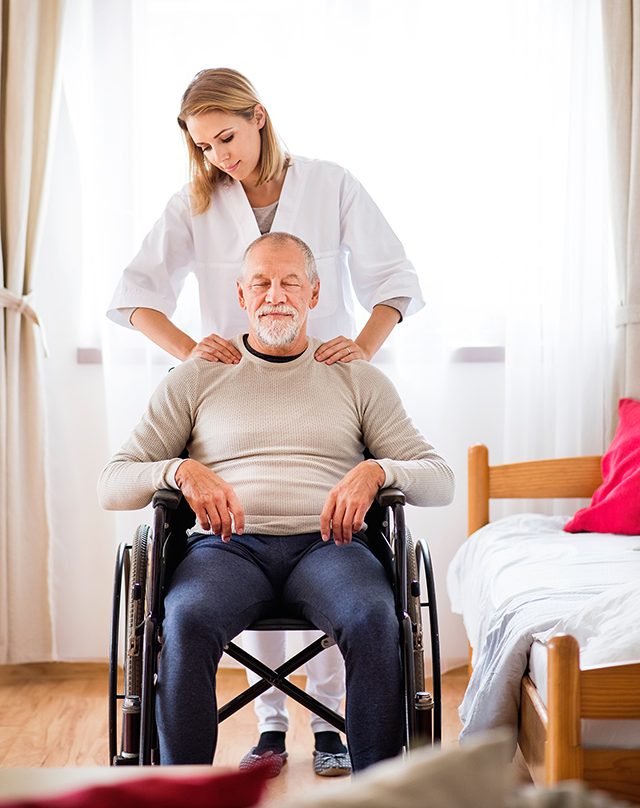 IF YOU'VE GOT MEDICARE, YOU'RE COVERED
Covered by another insurance provider?
STRIVING FOR THE BEST PATIENT OUTCOMES POSSIBLE
According to a recent study, when compared to state and national averages, Danny's Home Health Care patients were more likely than to see improvements in breathing, walking and moving around, bathing, and getting in and out of bed. Our patients were more likely to have their home care started in a timely manner, had less pain when moving, were checked for risk of falling and depression, and were current for their flu and pneumonia shots.
Our Home Health Care Services
We're prepared to handle a wide array of in-home care needs, including working with those recovering from surgery or injury, to those dealing with disabilities or chronic illness. All patient care plans are also highly customized and there are no out-of-pocket costs. We're CMS-certified and CHAP-accredited. Call us today, anytime day or night, and talk to one of our highly trained medical concierge representatives. We're ready to come to your location for a free consultation.
Examples of those who may be homebound and in need of in home care include:
Danny's Home Health Care is an excellent agency! They cared for an elderly aunt of mine and they helped her immensely! The compassion and care they showed each time was very much appreciated. The physical therapy and nursing services they provided were unmatched. I highly recommend this agency to anyone who wants quality home care and staff that actually cares about their patients.
— Shannon Cholak
Google ★★★★★
During the last few years, I have nearly died twice for a lack of adequate healthcare at home... One of my doctors then suggested Danny's Home Health, and since I had respect for that doctor, I decided to try again and was pleasantly surprised to find an agency that would not give up on me even before meeting with me! Danny's became working proof to me that home healthcare can be done properly. They have been steady and helpful when other agencies had no clue. If I had a special problem, they did some thinking and found a solution instead of jetting out the door never to be seen again. Thank you to everyone at Danny's!
— George
Google ★★★★★
As a company that provides therapy services to home health agencies, Danny"s Home Health is an excellent home health agency. They are a well organized group that provides great service to their patients. Everyone at the agency is very knowledgeable and cares about what they do.
— Randi Peled
Google ★★★★★
The care and follow through was very good and one person, Rita, was tremendous help in setting up care transportation - she went beyond normal expectation. All that are involved with my mother's care have gone beyond the normal level of care. Thank you.
— Larry Carter
Google ★★★★★
Excellent home health agency, all the staff that they working their are very helpful and patience. They are very flexible, honest and organized. I highly recommend this company for your family as they treat you like part of their family.
— Ruaa Damman
Google ★★★★★
This home health agency is 5 Star! They have helped with the care of my grandmother, and we as a family could not be more pleased. I highly recommend their excellent services for anyone one in need like our family was.
— Mary Dreher
Google ★★★★★
This home health agency has impressed me in many ways. Not only is this agency honest, yet friendly, but they seem to amaze me with the opportunities that they have provided for their patients from their physical therapy program. They also have wonderful staff who are so kind and hardworking. I recommend that if you want to see your family get better, Danny's Home Health Care all the way!!
— Marwa Younis
Google ★★★★★
Danny's home health care is the most professional and most timely home health agencies I have ever dealt with. They have the best RNs and physical therapists that can really reach the highest outcomes. One of my family members used this agency through Sharp hospitals in San Diego, and am most confident that we will always choose Danny's Home Health for our future home health needs. 5 star rating all the way!!
— Rick Bachi
Google ★★★★★
E-SIGN FOR PHYSICIANS AND HEALTH CARE PROVIDERS
Client Sidekick
Services
A free electronic signature software for Doctors
Sign all your referrals and orders electronically
A simple & easy to use software for Physicians to sign ALL their orders for ALL their providers electronically in one place.
E-Sign Outstanding Orders
E-Sign and send all orders electronically from your smartphone over a HIPAA compliant server with military grade encryption.
Track all the referrals and orders that you have sent to your favorite health care providers.
Refer patients in a few easy steps and sign orders instantly with a click of a button!