Danny's Home Health Care
Our Story
Danny's Home Health Care is named after my youngest brother Daniel John Kassab. On July 22nd 1993 Danny who was 7 at the time was crossing the street and was hit by a car going 60mph. As a result of his injury he became paralyzed from the neck down and dependent on a ventilator to breath. Our family became strong and Danny became the nucleus of our family and we all took care of him and each other.
"At Danny's Home Health Care our commitment is to achieve the highest clinical outcomes possible while delivering world class customer service. We are committed to you and your health and happiness."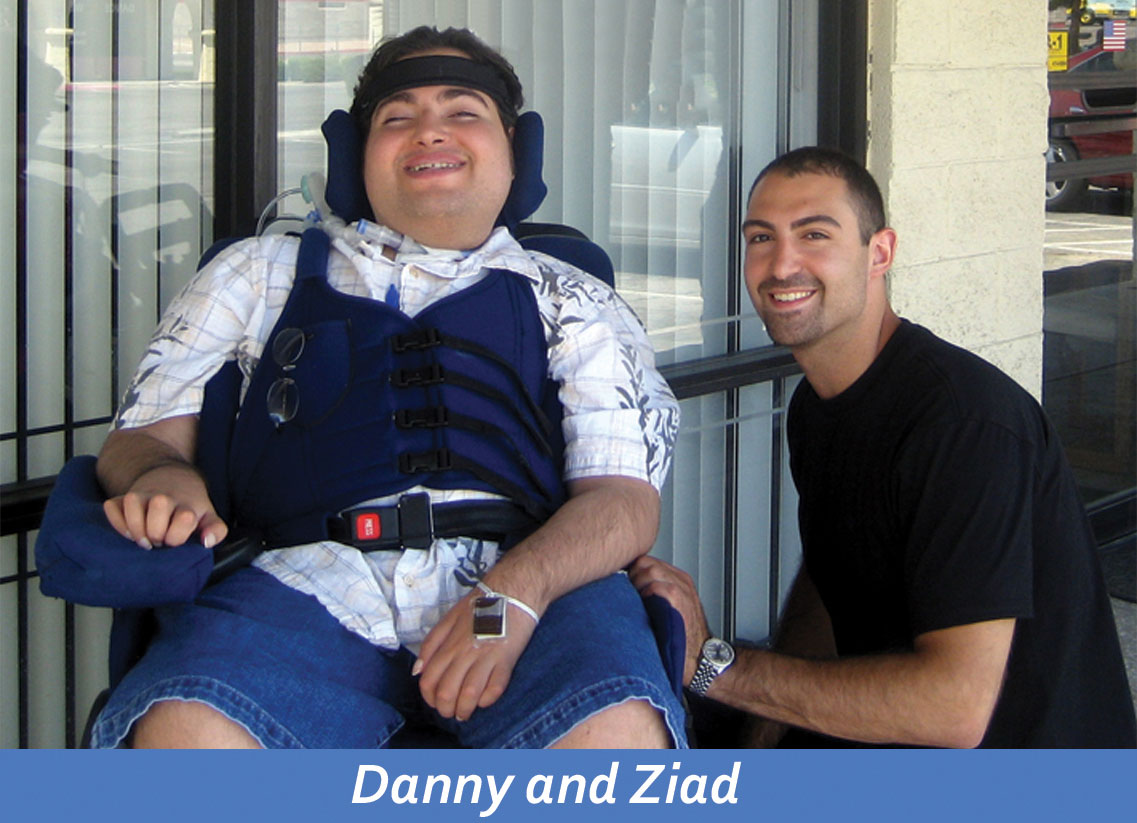 Danny's Home Health Cares Non-Profit
The D-MAN Foundation
Services
Be the Miracle!
Danny's Miracle Angel Network
The D-MAN Foundation, Danny's Miracle Angel Network, is dedicated to enriching the lives of families and individuals living with physical and mental disabilities. Through education, specialty programs, and fundraising efforts, The D-MAN Foundation strives to ensure that people with quadriplegia and other severe disabilities have the opportunities to achieve the highest quality of life possible.
Costume parties, ditchin' wheelchairs for classic cars, and a whole lot of music! A DMAN event is one you do not want to miss! Learn more about how you can be a part…
Learn more about our signature "Barrier Free" Music Therapy Recording Studio and Assisted Travel Program and how they can benefit your loved one today!…
The D-MAN Foundation is a 501 (c)(3) nonprofit organization
Dedicated to enriching the lives of families and individuals with physical and mental disabilities.
During the last few years, I have nearly died twice for a lack of adequate healthcare at home. During that time, I came to trust almost no agency that offered or pretended to offer such services where I lived, and I nearly became resigned to the idea that I would soon just get stuck somewhere
— George 3/8/2018
Google ★★★★★
As a company that provides therapy services to home health agencies, Danny"s Home Health is an excellent home health agency. They are a well organized group that provides great service to their patients. Everyone at the agency is very knowledgeable and cares about what they do.
— Randi P. 5/9/2018
Google ★★★★★
The care and follow through was very good and one person Rita was tremendous help in setting up care transportation she went beyond normal expecpentaion All that are involved with my mothers care have gone beyond the normal level of care.Thank you, Larry
— Larry C. 4/10/2018
Google ★★★★★
Hi I am Sue Kassab. I am one of the medical concierge personal at Dannys Home Health Care. It is so nice to work for an agency that has so much heart and cares deeply for their patients. our team of clinicians, office staff and marketers with the guidance of our CEO makes us a great team. thank you, everyone, for working together to make us a family here at Danny's Home Health
— Suha K. 2/26/2018
Google ★★★★★
E-SIGN FOR PHYSICIANS AND HEALTH CARE PROVIDERS
Client Sidekick
Services
A free electronic signature software for Doctors
Sign all your referrals and orders electronically
A simple & easy to use software for Physicians to sign ALL their orders for ALL their providers electronically in one place.
E-Sign Outstanding Orders
E-Sign and send all orders electronically from your smartphone over a HIPAA compliant server with military grade encryption.
Track all the referrals and orders that you have sent to your favorite health care providers.
Refer patients in a few easy steps and sign orders instantly with a click of a button!
Call us for any home health care questions. 888-246-MYNURSE (9687)
REQUEST AN APPOINTMENT